Frank "The Tank" Petracco
January 1, 2006 – May 4, 2011
Just over a year after losing my husband's American Mastiff, we were in need of a four legged friend in the house. We searched online for Mastiffs as we were looking for a large dog, with a similar temperament. We contacted GLMR, completed the application process and got a call a few weeks later that there was a guy available in need of a home. I recall seeing him for the first time, looking at this tall, lanky, 180 lb giant and laughing as I thought, OMG, he is the size of a human! I knew it was love when he came in to meet us and put his head in my lap as he sprawled out on the rug in the living room.
He was diagnosed with Auto Immune Hemolytic Anemia approximately 8 months after he came in our home and stole our hearts. He fought it well, and even gave us hope in signs of improvement. Ultimately, however, he could not recover. He waited until both of us were home holding him and passed away. He will always be a part of our family and he is missed dearly.
They always leave us better than they found us.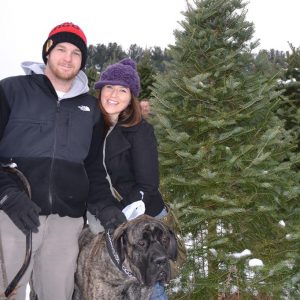 All too soon they leave us with a broken heart and a sorrow that we think will never end. Thinking of them we smile: their silly antics, their happy grins, their big heads on our lap. No one can replace them in our hearts, but there is always room in our hearts in case another dog needs us.
If you've adopted a GLMR Mastiff that has passed to the Rainbow Bridge, please send a photo and brief description of your beloved Mastiff so we add them to this page.