Rescuing Mastiffs is our passion.
Eileen – President 
I became involved in rescue because of my first Mastiff, NOLA. He was a sickly puppy who spent lots of time at the vet's office and the breeder wasn't helpful. I had never heard of dog rescue until the day that my neighborhood dog boutique owner said, "Wow. Most people who have had the problems you have with NOLA would have dumped him at the shelter or a rescue." I went home and did my research about Mastiff rescue that same night, not to surrender my baby to a rescue, but to offer them any help I could give them. That's when my life went to the dogs.
I started by helping with events and home visits which quickly was followed by fostering. I honestly lost count of the number of foster dogs that have come through my home but I have loved them all as my own. Some only stayed a few days, some stayed for years, and some have stayed until the their pain was too great and it was time to humanely end their suffering. When people ask why I do it, my first response is always, "I must be atoning for some horrible things I had done in a past life!" In all honestly, I do it because I love it and I cannot imagine a life where I am not trying to help any Mastiff in need.
I live with the most patient and tolerant husband ever who never bats an eye when I bring home another Mastiff (or two or three) plus Henry, who is afraid of floors, and Cleo the most perfect Mastiff ever to happen.
Vanessa – Treasurer
Vanessa saw and fell in love with her first Mastiff in 2007. She snuggled in a chair with Eileen's dog, NOLA, for several hours at a holiday party, and her life was never the same. Unfortunately, she was renting at the time and couldn't find an apartment that accepted giant breeds. Eight years later,    Vanessa and her husband were living in the suburbs and adopted their first foster, Gracie, from GLMR. Eileen lured Vanessa onto the board of directors as Treasurer 6 months later.
Vanessa and her husband continue to foster GLMR dogs and are currently working on their second foster fail. They have another rescue dog, a teacup Wolfhound*, who is looking for a new best friend since Gracie passed in 2018. Vanessa loves giant breed dogs and maintains there are few better things in life than being able to spoon with a human-sized fluff ball.

I started working with GLMR in January 2010  with the intention of only doing home visits, evaluations and transports because, like most people say,  there was no way I could handle the emotional turmoil of fostering.  I would get way too attached!  No way.  No how.  Then I was asked if I would consider short-term, emergency fostering for a couple weeks maximum.  I begrudgingly said ok and quickly received my first foster Sara.  Well, two weeks turned into eight months because Sara had some medical issues that needed to be cleared up prior to adoption.  Needless to say I fell madly in love with her and of course wanted to keep her!  But then the perfect family for her appeared and I knew that I could not selfishly keep her.  I cried for days and swore I would never foster again.  Fast forward almost 10 years now and I cannot count how many mastiffs have passed through my doors and my life.  Yes, rescue is so hard and often times completely gut wrenching, but seeing these beautiful souls find the loving homes they deserve, not to mention the unconditional love the families get back in return, is beyond worth it.
If you are a Mastiff lover and would like to get involved, there are so many ways you can help!
Nothing makes us happier than when a Mastiff finds his or her forever home.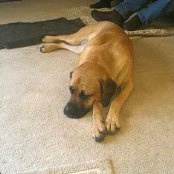 She was so timid when I brought her home, she would barely go off the deck to take care of her business. She has since grown into a beautiful girl with a goofball personality and is now 131 pounds at almost 3 years old.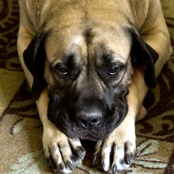 He has adjusted beautifully; he and Lola are best friends and he has the funniest personality. He now has free reign of the house with Lola, they nap together, play together and steal toys from each other.
After a few weeks, we realized the dogs were getting along and decided we were the right family to work with him to improve his confidence and ease the anxiety. We decided to give him a forever home and adopted him.
We are a 501(c)3 tax exempt charitable organization.

Your tax deductible donation can be made through PayPal from the Donate link on this page or
can be mailed to us at:
Great Lakes Mastiff Rescue
PO Box 47256
Chicago, IL 60647
GLMR Fundraisers

Help support Great Lakes Mastiff Rescue.
Christmas Cards Are Available
A pack of 10 holiday cards (2 of each design) is $10.00 or you can purchase 10 postcards for $6.00.
T-shirts will be coming soon.

GLMR is now registered with the AmazonSmile program! That means simply by registering us as your preferred charitable organization, Amazon will donate a portion of every purchase at no cost to you. To select GLMR as your preferred charity, go to 
Easy AmazonSmile Registration
.

We encourage you to see the
 Shop Our Friends
 page for holiday gift ideas. These are organizations that generously support GLMR throughout the year.
We care about the quality of our efforts.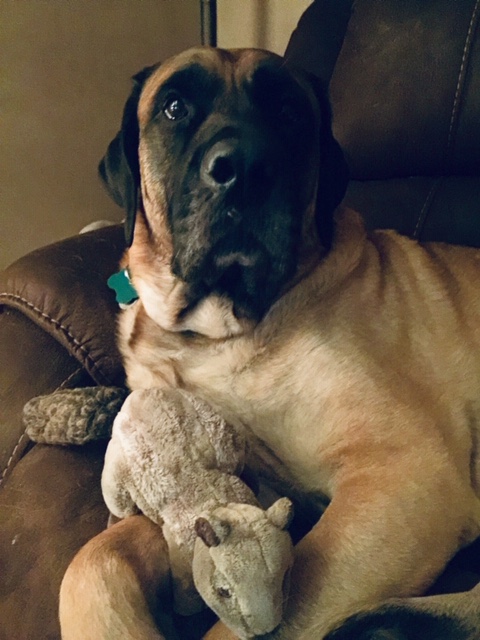 Thank you GLMR for completely changing my life through the adoption of this handsome man we call "Juggernaut" and also for allowing me to change his life for the better.
Thanks to the wonderful team at GLMR for making my match and adoption as swift and easy as possible, and saving him for his forever home with me.  I cherish every cuddle and spoil him terribly because he deserves it. I just love this old man with all of my heart, and so does my entire family and friend group."
Leigh
Proud parent to "Juggernaut"
Thank you for contacting Great Lakes Mastiff Rescue! We love hearing from you, but our members are all volunteers so it may take a little while for us to get back to you. We appreciate your patience and look forward to connecting with you.
If you are interested in adopting, surrendering a dog, or volunteering with our organization, email us at mastiff.r
[email protected]
or please complete the relevant form. Thank you!
Call us
(844) 6MASTIFF
or (844) 662-7843